How it was shot – Sugar and Honey
This was one of a rare beauty projects that I shot. Yet, even with focus on beauty, I wanted to stay true to my conceptual style and do something "out of the box". My main tool for this has become light. And the hero of this story is tiny, but mighty- broncolor picolite.
The concept of "Sugar and Honey" is based around idea of how sweet words that are meant to display affection are used as means of professional bullying. Ways of patronizing.
They are said to demean your significance and disregard your opinion.
Nice words becoming sharp weapons.
The overall mood of the shoot was- Sweetness with dark undertext.
Color tones were picked accordingly- black and golden with occasional pops of red.
Lighting for each frame was picked to not just compliment the mood, but to emphasise the concept.
First set named "Sugar" had sugar mixed with golden powder as main focus of make-up. And through lighting I was intent to give a dark mood with hint of mystery.
I chose mobi LED and broncolor picolite with the standard circle projection as my key light and moved it in such manner that it will only highlight part of model's face while keeping the rest in the dark.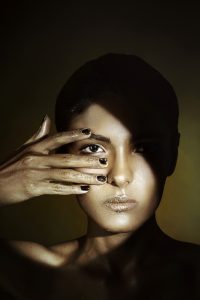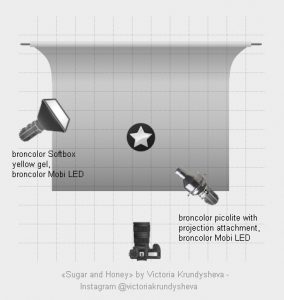 For one of the images I wanted model's body to not just fade into darkness entirely, but has a vivid silhouette. For that I added a slight light to grey background- Mobi LED with softbox and yellow gel.
Second set – "Baby" had my model's make up focus on innocent features with cheekbones highlighted in pink.
For that shot I wanted a slightly different approach. I suspended one Mobi LED with the stripbox above my model, so that the light will fall on the top of her head and on her collar bones creating a highlight. On her face I have used picolite with specifically prepared heart-shape cut-out from black paper that was projected on my model with broncolor picolite projection set.
It has beautifully emphasised the shape of her face and served to support the idea.
Third set – "Doll" featured exaggerated eyelashes and handmade dollhead earrings painted gold. I wanted my light to be harder for this shot, so i simply opened up a projection part of picolite and used it much like the usual strobe with yellow gel added.
Next look – "Darling" had a softer light set up. I used mobi LED with softbox as key light, adding broncolor Siros L from the back as fill light to separate the model from background and create a highlight on her. And as a final touch- picolite with projection in a shape of a strip with red gel to give a soft line on the side of her face.
The look "Sweetheart" had black and white candy as the main prop, white parts of which were painted with gold to maintain the main color theme. For this frame I used a mobi LED with softbox kept under slight angle above the model with reflector from the bottom. And to add a pop of color- stripbox with red gel on the side.
The last look- "Honey" had the same softbox on my model whose face had honey dripping from it creating beautiful light reflections.
This project was my opportunity to experience versatility of picolite and the opportunities it provided me to realize my vision.
This definitely is one of my many more light experiments to come and I can't wait to share what I have planned next.
Previous post Behind the scenes – Soul Sisters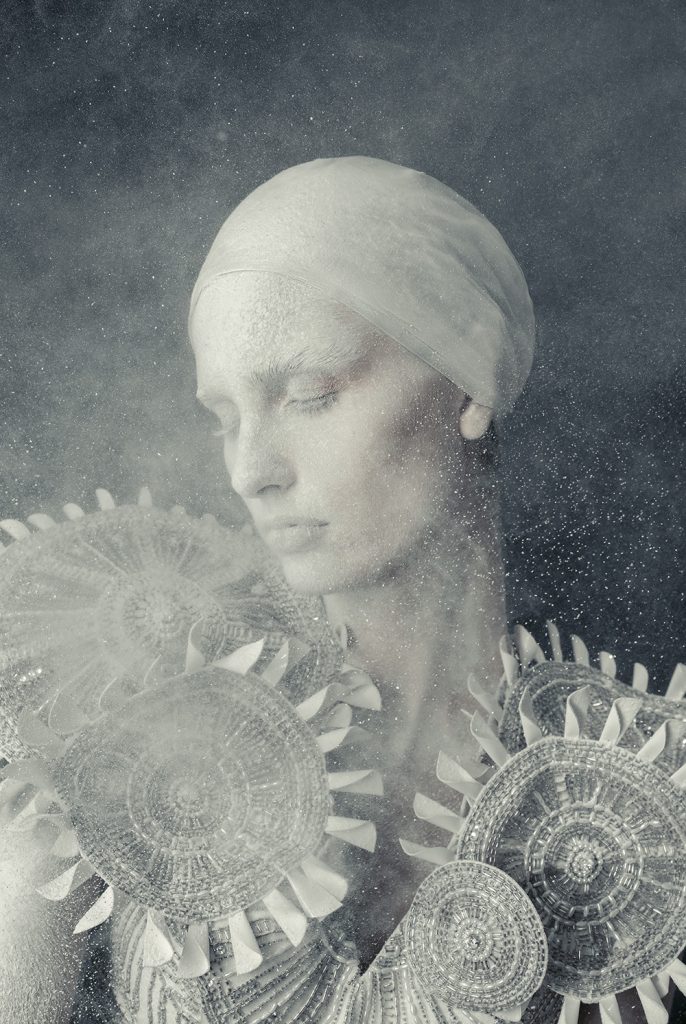 Next post Metamorphosis